RK3-01 44 HRC 19mm x 10mm Road Rehabilitation Milling Bits
Product Detail
Product Tags
RK3-01 44 HRC 19mm x 10mm Road Rehabilitation Milling Bits
Tsanangudzo
Type:
Road Milling Carbide Bits
Rimwe Zita:
Road King Road Rehabilition Conics
Tip Material:
Tungsten Carbide
Shank Material:
42CrMo
Shank Diameter:
20mm
Maitiro:
Forging
Zano Chimiro:
Cap Shaped
Application:
Asphalt Layer Kubvisa Pa100-300 HP Milling Machine
Chiedza Chakakwirira:

44 HRC Rehabilitation Milling Bits

,


RK3-01 Road Rehabilitation Milling Bits

,


19mm x 10mm Rehabilitation Milling Bits
SRK301 Asphalt Road Milling Tips Kennametal Road Rehailitation Conics Bits
1. Road Milling Bits Tsanangudzo
Mabheti ekugaya migwagwa anozivikanwawo seasphalt uye kongiri yekucheka bhiti, mapikicha ekugadzira migwagwa, mazino emagetsi ekucheka emigwagwa, ayo anoshandiswa sezvikamu zvekupfeka zvemushini wekugaya mugwagwa mukuvaka mugwagwa.Bit inoisirwa mudhiramu rekugaya yemuchina wekugaya uye kucheka nzira yemugwagwa.Mabhiti acho ane marudzi maviri, asphalt bits neconcrete bits.Zvinoenderana nekuoma kwakasiyana kwemigwagwa ine mabheti akasiyana.
Alloy simbi Muviri, wakagadzirwa nezvinhu ASTM4142 kana 42CrMo, kurapwa kwekupisa ne 40-44HRC kuoma, ine kusimba kwakanyanya uye inopfeka. Zano rine pamusoro pe50 HRC kuomarara rinogadzirwa kubva kuLow press Sintered, uye Inokodzera Giredhi Rakasarudzwa zvinoenderana neTanga Mapurojekiti, Iyo ndeye kuve nechokwadi chekuita kwakanaka panguva yekushanda.
SRK301 ndeye cap-shaped carbide tip yekubvisa asphalt layer, tora musoro une extractor groove seyamuro yekubvisa.Iyo shank dhayamita i20mm, carbide tip dhayamita i19mm x 10mm, inorumbidza iyo 100-300-1000HP yepakati compact kugaya michina yeWirtgen, Dynapac, Katsi, Kennametal uye Sanvik.
2. Milling Bits Specification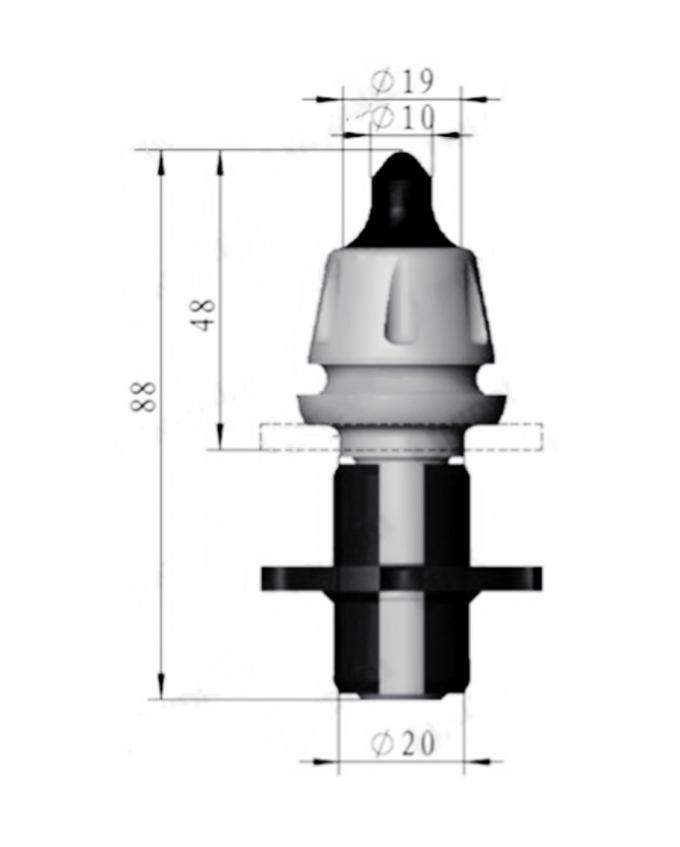 Type

Meaning

 

SRK301

Kuenzaniswa neKennaMetal RK3-01, Katsi 5784416

 

Appliciaton
Cap-shaped caride tip yekubvisa asphalt layer.
Shank
Yakabatwa mumudziyo wemidziyo yakaboora ine shank dhayamita ye20mm
Carbide uremu pakusarudza

30g

 

Huwandu pabhokisi rekushandisa

50 zvidimbu

 

Huremu pabhokisi rekushandisa

17kg

 
3. Road Milling Bits List
Code Number

 

Carbide Shpae
Carbide Weight
Zano Saizi
Material to be Milled
Machine Type
SRK301
Cap Shape
30.8g
10 x 19mm
Asphalt
100-300HP Milling Machine
SRK403
Cap Shape
36g
12 x 19mm
Asphalt
300-1000HP Yakakura Milling Machine
SRK504
Cap Shape
41g
11 x 21mm
Asphalt

300-1000HP Yakakura Milling Machine

SRK101
Cap Shape
20g
9 x 16mm
Asphalt
100HP uye Yezasi Diki Kukuya Machine
SRK1PT
Plug Shape
24g
10mm
Concrete

100-300HP Milling Machine

SRK3PT
Plug Shape
38g
13mm
Concrete

300-1000HP Yakakura Milling Machine
4. Carbide Picks Structure

1. Chiyero chinonzwisisika che tungsten cobalt alloy kuti ive nechokwadi chekupfekedzwa kwekusagadzikana uye kuputsika kwekudzivirira kwekucheka kwekucheka.
2. Yakanakisa kuyerera solder kuti ive nechokwadi weld simba.
3. Yakasarudzika dhizaini yemuviri kuti uvandudze kushanda kwekudzorera, kuve nechokwadi kutenderera kwakatsetseka, hutsva hwekupisa kupisa nzira yekuvimbisa kusagadzika kwekupfeka uye kushomeka kwekuputsika kweanocheka shank.
4. Thicken gasket dhizaini, chengetedza hupenyu hurefu hwemubati wemidziyo.
5. Kukobvura sleeve, iva nechokwadi chepakati tension uye clamping simba, nyore kuisa uye kubvisa.
5. Milling Machines Type
SRK301 inogona kushandiswa pa100-300 HP compact milling machines, yakadai seW100F, W120F, W130F, W100CF, W120CF, W130CF, W150, W150CF.
---
Zvinotevera:
Granite Kucheka Madhaimani Segment Nekukurumidza Kucheka Multidisc Chikamu cheGranite Basalt Diabase Slate
---
Nyora meseji yako pano ugotitumira